As if by magic, the stunning Wizarding World Wand Installation appeared in the Birmingham Bullring this morning in preparation of the exciting switch-on event this evening (11 March 2022).
Lucky fans Beatrice Ramos, 7 and Georgie Loggie, 13, were the first to get their pictures with the 15 feet tall wands which are exact wand replicas of favourite characters in the Harry Potter and Fantastic Beasts films.
The Wizarding World Wand Installation is here to celebrate the upcoming release of Fantastic Beasts: The Secrets of Dumbledore.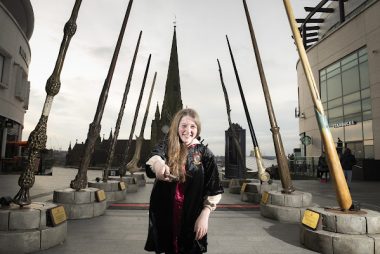 The Secrets of Dumbledore will be in cinemas from the 8th April 2022. Featuring Georgia Loggie, (13).
This is the second stop of a UK tour for the 15ft tall wands, with locations chosen by a public vote.
The wands will be on display at the Bullring in Birmingham until 17th March, before visiting Stoke-on-Trent and Reading.
The wands will illuminate each evening, from tonight until Thursday 17th, performing a light show to the thrilling music from the Fantastic Beasts and Harry Potter films.
Fantastic Beasts: The Secrets of Dumbledore will be in cinemas from the 8th April 2022.
Support community journalism by making a contribution
The Coventry Observer's team of journalists provide a trusted source of news, sport, entertainment and events going on in your area and issues which matter to you - both via our free weekly print edition and daily updates on our website.
Every contribution, however big or small, you can make will help us continue to do that now and in the future.
Thanks for reading this and the Coventry Observer.
Support Us