To mark the 60th anniversary of Coventry Cathedral, Nitin Sawhney CBE, recipient of the Ivor Novello Lifetime Achievement, has been commissioned to create a new site-specific performance in response to Benjamin Britten's masterpiece War Requiem.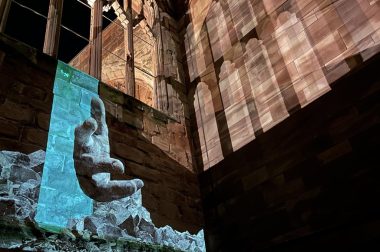 When: Thu 27 Jan 2022 to Sat 29 Jan 2022
Where: Coventry Cathedral Ruins Priory Street, Coventry, CV1 5AB
Ghosts in the Ruins reflects Coventry as a city of sanctuary, and its stand against war and violence, with a strong history of helping refugees, asylum-seekers and migrants.
The work will explore themes of acceptance, hope, resilience, regeneration and reconciliation in relation to contemporary conflicts.
The performance will be in two linked parts – the first part is seated inside the modern Cathedral, with a focus on intimate and reflective choral moments, including singers and musicians rising from and moving around the audience, interspersed with sections of ambient music and sound. The audience will then be invited to move into the ruins of the Cathedral to experience a bold, performative ending, where the Cathedral singers will be joined by community singers from in and around Coventry. The singers will be led and directed by Coventry Cathedral's Director of Music Rachel Mahon, who is also a Creative Associate on the project.
Ghosts in the Ruins is a chance to not only to remember and acknowledge the destruction of past events, but also a time to have hope for our future and for the world to find another way to resolve conflict.
The original piece, co-conducted by the composer and Meredith Davies, premiered at the Cathedral in May 1962 as part of the 1962 Coventry Festival and is internationally regarded as one of the iconic highlights of British twentieth century choral music. Sixty years on, Ghosts in the Ruins will use the human voice at the centre of the work, with intimate and reflective choral moments being performed against a backdrop of specially commissioned images projected onto the interior walls of the Cathedral.
Ghosts in the Ruins has been commissioned by Coventry Cathedral and Coventry City of Culture Trust as part of Coventry UK City of Culture 2021. Supported by funding from Arts Council England.
ABOUT THE ARTIST
Nitin Sawhney CBE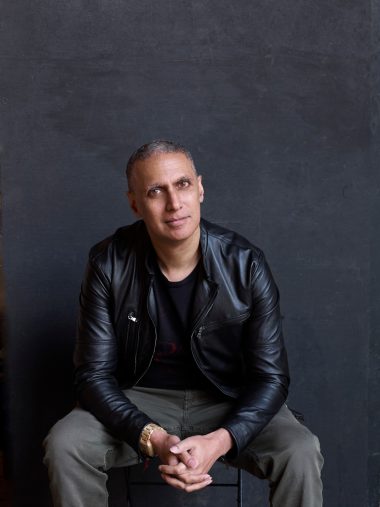 Nitin Sawhney CBE, D.Mus, recipient of the Ivor Novello 2017 Lifetime Achievement award, is one the most distinctive and versatile musical voices around today.
Sawhney has recorded multiple albums, film soundtracks and compilations, encompassing over 60 film and TV scores and is established as a world-class producer, songwriter, touring artist, BBC Radio 2 and club DJ, multi-instrumentalist, theatrical, dance, videogame and orchestral composer and cultural/ political commentator. He holds 7 honorary doctorates from various UK universities along with 2 fellowships and works as Ambassador for/sits on the boards of multiple charities. He has received over 20 major national and international awards for his work and is a member of the academy of motion picture sciences (Oscars), BAFTA and the US recording academy (Grammys).
Sawhney is also the Chair of the PRS Foundation, the UK's funding body for new music and talent development, and his latest album, called 'Immigrants' for Sony Masterworks, was released in March 2021. Nitin is currently an ambassador for the Royal Albert Hall to celebrate their 150th anniversary. He also sits on various other boards for creative arts and education.
Nitin is currently working on several film & TV scores as well as various commissions to be announced.
On Thursday 27 January, we are proud to host Nitin Sawhney CBE for a special Q&A session after the performance. Please make sure you book in advance.
Main Image: Mark Murphy
Photo of Nitin Sawhney by Suki Dhanda
Support community journalism by making a contribution
The Coventry Observer's team of journalists provide a trusted source of news, sport, entertainment and events going on in your area and issues which matter to you - both via our free weekly print edition and daily updates on our website.
Every contribution, however big or small, you can make will help us continue to do that now and in the future.
Thanks for reading this and the Coventry Observer.
Support Us