Local MP and Minister for the Commonwealth Games, Nigel Huddleston, has welcomed the final countdown to the Birmingham 2022 Commonwealth Games.
With now less than 100 days to go, tickets for most sports at Birmingham 2022, the biggest multi-sport event to be staged in the UK for a decade, have gone back on sale.
With prices from £8 for under 16s and £15 for adults, more than one million tickets have been sold already – and this latest ticket window is expected to be very popular.
Commenting upon the countdown, Nigel Huddleston said:
"There are now less than 100 days to go until the Birmingham 2022 Commonwealth Games begin. Tickets are back on sale now, and seats for most sports are available, so get in quick to reserve yours!"
Birmingham 2022 has the biggest ever sports programme in Commonwealth Games history, with 286 sessions across 11 days of live sport. For events in the West Midlands, your Games ticket includes access to public transport in the local area on the day of your event.
Explore the Competition Schedule to find out when your favourite sports will be taking place.
For more information on tickets, please see: https://www.birmingham2022.com/tickets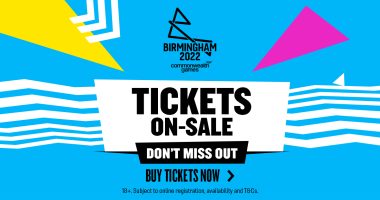 Support community journalism by making a contribution
The Coventry Observer's team of journalists provide a trusted source of news, sport, entertainment and events going on in your area and issues which matter to you - both via our free weekly print edition and daily updates on our website.
Every contribution, however big or small, you can make will help us continue to do that now and in the future.
Thanks for reading this and the Coventry Observer.
Support Us