Midlands based Bowens Holidays have been organising tailor-made tours for many years.
They organise coach holidays and door to door getaways for groups and individuals to exciting destinations all over the UK and Europe.
If you're looking to take a trip this year, support a local business and book with Bowens Holidays.
Bowens are a family owned business that have been operating since 1928 with an extensive history and experience within the coach market.
Operating to the highest standards within the industry, they pride ourselves on putting customer satisfaction and safety first.
Their experienced staff have a wealth of knowledge to help arrange and plan your next getaway.
Their market leading free place structure, excellent tour drivers and latest modern coaches will ensure that both you and/or your group have a memorable time away with Bowens Holidays.
All holidays can be booked from the comfort of your own home with their friendly reservations team on 0121 559 1237 or 0121 585 9212.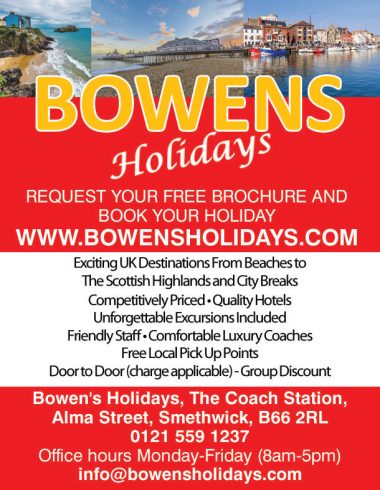 More Info:
Nationwide Pick ups
With customers up and down the country, even though they're local to the Midlands, they are very much a nationwide operator. From lands end to the Scottish Highlands they pick -up groups from all over the country for their holidays and trips in the UK and aboard. Thier flexible approach makes booking a coach trip with Bowens as easy and stress free for a customer as possible.
Tour Operators
They have years of worth of experience carrying out our touring work for various operators across the UK. They fully understand the importance of things such as communication, presentation and running on time. We pride ourselves on getting the small things right, so our customers return from their holiday ready to book another.
Schools, colleges and universities
Safety is paramount with Bowens, so all their drivers are fully DBS checked and their vehicles go through a rigorous 4- weekly safety inspection. As a family run firm they know the concerns most parents and teachers express when looking for coach hire. They treat all their vehicles the same way- if it's good enough for their children it will good enough for yours. They have decades of experience carrying school and university groups all over the UK and abroad. From concerts and events, to a fortnight in the alps on a skiing holiday you can be sure yours in safe hands with Bowens.
Group Travel
They know all too well how stressful it can be trying to organise a group day trip or holiday. Bowens have a vast amount of experience tailor making group travel itineraries and organising trips and holidays for their groups. From social clubs to dance groups, retirement clubs to company days out why not give them a call to see how they can help with your next coach requirement.
Bowens Drivers and your safety
As already touched on above the most important factor for a coach company should be the safety of passengers on-board. At Bowens they take this extremely seriously. Their vehicles are put through a 4-weekly safety inspection that goes above and beyond what is normally expected by the DVSA. Their drivers are enhanced DBS checked and go through an extensive introduction course prior to be driving one of our coaches. You will always find them well presented, friendly and always put your needs first.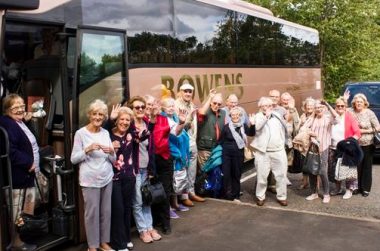 Free-place Policy
Bowens operate one of the countries leading free-place policies for groups. We feel it is important to reward the loyalty of our customers for chosing to place their business with us. Please find below a breakdown of their free place scheme and how it will apply to your group.
1 FREE EXTRA PLACE when paying for 15 people
2 FREE EXTRA PLACES when paying for 25 people
3 FREE EXTRA PLACES when paying for 35 people
4 FREE EXTRA PLACES when paying for 45 people
All holidays can be booked from the comfort of your own home with their friendly reservations team on 0121 559 1237 or 0121 585 9212.
Bonded for your protection. Alternatively book online at www.bowensholidays.com
Photo credits: Bowens Holidays
This post is part sponsored by Bowens Holidays. For further details click here.