CHEF and blogger Paul James writes for our paper.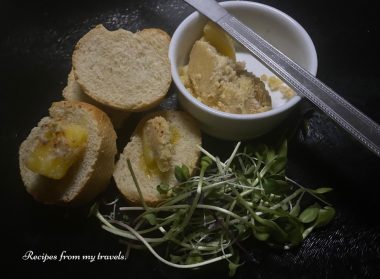 This is simple dish to create when you might have some of that meat tucked away in the fridge or freezer and are sick to the sight of cooked dinners, casseroles and curries.
This can be made with beef, chicken, prawns and dare I say – this soon after the festive season – turkey.
This is a delightful and tasty snack Served with some hot crusty bread, ideal for when you can curl up on the sofa and enjoy a bit of television or start writing your Christmas card list for next year.
Enjoy and here's to hopefully a better 2022.
Visit recipesfrommytravels.com for more on Paul's blog and recipes.
Potted Pork
Ingredients
Shredded pork.
2 small sweet gerkhins.
1/2 tsp of dried tarragon.
1tsp of paprika.
1tbsp English mustard.
100g butter, softened.
Nutmeg, freshly grated.
Toasted crusty bread to serve.
Salt and pepper to taste.
Method
1. Roughly chop the pork.
2. Put the pork in a food processor with the gherkins , tarragon, mustard, paprika and 50g of the butter.
3. Then blend until a grainy texture.
4. Add salt and pepper to taste.
5. Put all of the pork mixture into a serving dish or small individual dishes.
6. Smooth over the surface with the back of a spoon.
7. Melt the remaining butter and pour it over the top of the potted meat in the dish to fully cover. Chill for at least one hour until cold and the butter has set.
8. Serve with toasted crusty bread.