The pandemic has left many of us short of cash – but there may still be ways you can help make a difference. By Vicky Shaw.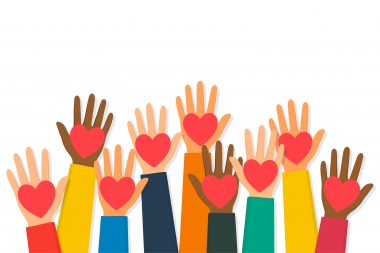 A strong community spirit has shone through in 2020, as people have done their best to help others less fortunate.
Many of us are not in a position financially right now to give immediate cash donations however, especially if you have lost all, or part, of your income.
If you would like to help a charity or good cause but money is in short supply right now, there may well be other ways you can help though. Here are some ideas…
1. Leave a legacy gift
"During lockdown we've seen a significant increase in people choosing to leave gifts to charities in their wills, with local causes now becoming more popular beneficiaries," says James Antoniou, head of wills at Co-op Legal Services.
"Legacy giving is a way in which people who want to donate to charity, regardless of the size of that gift, can have peace of mind that their wish will be carried out."
2. Donate your hair
If lockdown has left you with longer hair than usual, you could put it to good use. The Little Princess Trust provides real hair wigs to children and young people who have lost their hair.
"One of the most popular ways for people to support The Little Princess Trust is to donate their long locks to our charity, " says founder Wendy Tarplee-Morris. "We provide real hair wigs, free of charge, to children and young people up to the age of 24 who have lost their own hair due to cancer treatment and other conditions such as alopecia.
"We know that the wigs we provide can make a real difference to a young person at a very difficult time in their life," Tarplee-Morris adds. "It costs our charity £550 to provide one wig and this total includes not only the manufacturing of the wig, but the fitting and styling too. We therefore encourage our hair donors to ask family and friends to sponsor their hair cut by setting up an online fundraising page.
"Thanks to our brilliant supporters, The Little Princess Trust also funds pioneering institutions leading the way in researching paediatric cancers and, since 2016, we have committed more than £7 million to projects focused on kinder and more effective treatments for childhood cancers.
"So setting up a fundraising page for a hair cut costs our supporters nothing more than their time but plays a vital role in helping The Little Princess Trust give hair and hope to thousands of young people every year."
Hair donations need to be at least seven inches long – but the charity is encouraging donors to let their hair grow past 12 inches as there's currently a high demand for longer wigs.
3. Give your time
Volunteer at a food bank, do a vulnerable neighbour's shopping, or find out if someone else in your community needs help. Volunteers can search for local causes at doit.life/ours.
Many charity shops would also love extra pairs of hands right now. Fee Gilfeather, Oxfam's head of audience and strategic planning, says: "Oxfam is urgently appealing for volunteers. Following the pandemic, some volunteers have been unable to return to their positions because they are shielding, and we rely on our volunteers to keep our shops running smoothly.
"We haven't got the capacity to handle, sort and price as many donations as before lockdown, so we desperately need more volunteers across the country to help us."
More information on volunteering is at volunteer.oxfam.org.uk.
Allison Swaine-Hughes, retail director at the British Heart Foundation (BHF), says: "If you are looking to donate your time, we have plenty of volunteer opportunities available; you can contact your local BHF shop about their current opportunities or head online to bhf.org.uk/volunteer to explore more ways to support our shops or community fundraisers.
"As well as gaining experience which could boost your CV, the BHF offer a programme of nationally recognised qualifications that could enhance your employability or university application. Without the donated time of our volunteers we simply couldn't do the amazing work we do."
4. Have a clear out
Put your unwanted items to good use. Oxfam has a 'ring before you bring' system – asking donors to call their local shop to arrange a drop-off time. Contact details are at oxfam.org.uk/shopfinder.
Oxfam shops accept a wide range of items. The charity asks that donations are staggered if possible, rather than taking everything at once. Use bags or boxes you're happy to leave with the store.
By Gift Aiding your donation, charities can claim 25% extra on the sale of donations too. Oxfam's 'tag your bag' scheme – tag-your-bag.oxfam.org.uk – lets people know how much their items have raised.
With winter approaching, the BHF's fashion shops urgently need jumpers, fleeces, hats, gloves, coats, jackets and boots. The charity's home stores would also appreciate electricals, furniture or homeware donations by booking a free 'Covid-secure' home collection on their website.
---
Source: PA
Photo credit: iStock/PA
Support community journalism by making a contribution
The Coventry Observer's team of journalists provide a trusted source of news, sport, entertainment and events going on in your area and issues which matter to you - both via our free weekly print edition and daily updates on our website.
Every contribution, however big or small, you can make will help us continue to do that now and in the future.
Thanks for reading this and the Coventry Observer.
Support Us