We really do have a very confused relationship with the weather here in the UK don't we? For most of the year we moan it's way too cold and then as soon as temperatures soar to a rather toasty 30 degrees, we can't cope.
I mean that sort of temperature is fine if you're lying in a paddling pool with a nice icy cocktail and your partner is fanning you down with a giant palm leaf right?
But if you need to cool down at night and have tried everything including sticking your head in the fridge a few times, drifting off can seem impossible. It's just way too hot!
There will be many a British limb out of the duvet tonight that's for sure.
Luckily, however, we have some very resourceful readers who have sent in some of their best hacks to stay cool and get a good night's sleep during this hot weather.
Here are their 'coolest' ten tips:
10. The homemade cooling mist: All you need is a spray water bottle filled with water and add a few drops of peppermint extract. To cool down spray yourself and even your pillow before you go to bed. It's so refreshing and the mint helps you feel cool as the water evaporates.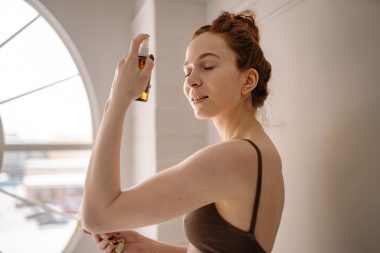 9. Freeze your sheets: Pop your pillowcases in a sealed bag in the freezer for an hour before you put them on your pillows and climb into bed. If you've got the room you can do your sheets too. Just make sure they are clean of course.
8. Cuddle a cold water bottle: You've heard of hot water bottles well this time just fill it with cold water and loads of ice cubes. You can even use your gym bottle or a flask. Cuddle and stay cool for hours.
7. Hit the showers: Take a lukewarm shower before bed. A cold shower will make you feel momentarily cold but it will also close down the pores so you'll sweat less. But a lukewarm shower will lower your core body temperature and also help your clean skin breathe easier thus keeping you cooler for longer.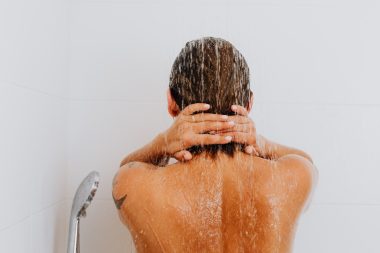 6. Keep your creams in the fridge: Keep your lotions and moisturisers in the fridge to feel refreshed and cool each time you apply. It's a great place to store sun creams too.
5. Use thin cotton sheets: Reduce your bedding but keep covers handy. Thin cotton sheets will absorb sweat and keep you cool and fresh.
4. Aloe ice cubes: Freeze aloe vera gel in an ice cube tray then instead of using your regular body moisturiser before bed, run the cool cubes all over your body. Afterwards you can even wrap a couple in a flannel and place on your forehead. Even when they melt into the flannel, the gel has a way of staying cool and refreshing on your skin all night long.
3. Wet your socks: Place a towel at the bottom of your bed and slip on a pair of socks that you've soaked in cold water. Then, for an added blast of coolness, point a fan at your feet. It keeps your whole body cool all night.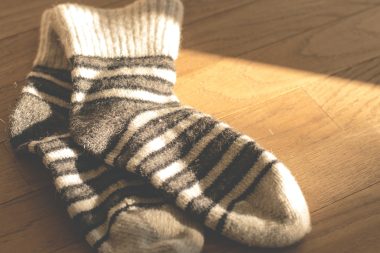 2. Keep out the sun: The optimum bedroom temperature for sleep is 16 – 18 degrees so depending on the direction your bedroom faces, take steps to prevent it heating up during the day by closing curtains and blinds.
1. Get a fan: Then place a bowl of ice in front of it before bed, turn it on and it will circulate a cool mist around the room.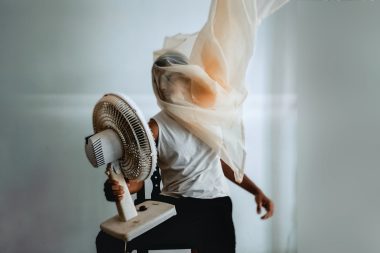 Also remember these warm nights can lead to increased sweating while you sleep so ensure you drink plenty of water in the morning to replenish your liquids.
---
Our friends at Headspace, the leading meditation and mindfulness app, have also shared some expert advice from Eve Lewis-Prieto, Director of Meditation at Headspace.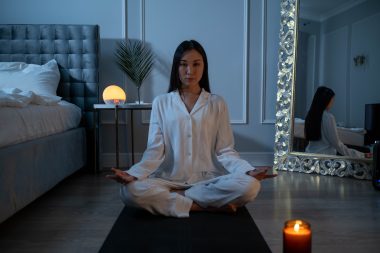 Meditation helps lower the heart rate by igniting the parasympathetic nervous system and encouraging slower breathing, thereby increasing the prospect of a quality night's sleep.
Eve offers her top tips for how to sleep in a heatwave, including shifting your mindset and visualisation.
Shift your thinking
Though it sounds obvious, we often don't think objectively about where our mind is – rather, we get lost in our thoughts. Sleeping in the heat is no fun, but the more we engage in the discomfort the harder it will be to get to sleep. It can be very easy to lie there and get annoyed and angry about the fact that the heat is keeping you awake; which in turn can activate the stress response which can actually increase your body's temperature. A lot of the pain and suffering though comes from ruminating about the situation in the mind and this is what creates the tension; and more heat. The more you feel unsettled by the heat, the longer you're going to be kept awake given how the body works.
Slow your breathing
At the core of meditation there is conscious breathwork and applying this to your sleep routine can help combat the irritation of heat. Doing some slow deep breathing can be a really effective way to help calm the mind and body down – this actually signals to the brain that all is okay and helps to lower the heart rate and blood pressure, which typically rise when we are stressed. While meditation is not about clearing away or stopping thoughts, it is about learning to be more at ease with your thoughts and more compassionate to yourself and others. In this way, mindful meditation can reduce stress, and help pave the way for a good night's rest.
Try visualisation
The technique of visualisation can also distract the mind from any frustration that only serves to keep you awake. Doing a visualisation exercise can also be a great way to shift the mindset. Perhaps try imagining yourself in a cool, breezy space, the wind is softly blowing on your skin. We're very good at creating a lot of disaster scenarios in the mind so this is really about flipping that around, and instead cultivating an image that sees you feeling cool and calm.
Use ambient noise
Another thing you could try is playing soft white noise or ambient sounds, which can work to take your mind away from thinking about how overheated you feel. This works to create a relaxing, peaceful environment.
Try not to worry about a bad night's sleep
Finally – if all else fails – decide to be fine with not getting a solid night's sleep. Some nights no matter what you do it will still be hot and sweaty and hard to sleep, so letting go of the idea that you will get a perfect night's sleep will also help. Sometimes the pressure of wanting to be fast asleep by a certain time can worsen the chances of that happening. And if you're worried about getting a good night's sleep – so many other folks are probably feeling the same way, so be kind to yourself.
Sweet dreams everyone!