Ford Focus 1.0 Ecoboost MHEV 155PS ST-Line X Edition
STREAMING old episodes of Top Gear is a favourite pastime of my two teenage boys, who have lifted the bonnet on the world of cars, particularly the very fast ones.
This week we enjoyed a feature from seven years ago when Richard Hammond was putting the Porsche 918 Spyder through its paces.
A hybrid electric motor added even more power to the ludicrously fast petrol 4.6 litre V8 mid-engine throwing the 'Hamster' up the straights at 0 to 60mph in just 2.2 seconds.
The additional electric power, as if it were needed, had some environmental benefit but really was just there to add extra torque to an already fully-loaded combustion engine.
The technology we see pioneered in supercars like the 918 and in motorsports like F1 and touring cars eventually filters down to the manufacturers' showrooms before becoming commonplace in everyday cars.
Driving and efficiency
Roll on seven years and I find myself behind the wheel of a 2021 model Ford Focus with the 1.0 Ecoboost MHEV (Mild Hybrid Electric Vehicle) engine.
Fords may not be in the same league as Porsche for luxury or speed but they remain a strong choice in the 'everyman' division, as they are affordable and stylish and good fun to drive too.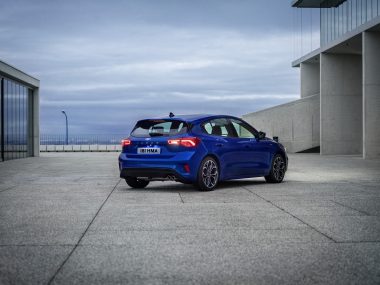 It's for these reasons, the Ford Fiesta has consistently topped the UK bestselling car charts for many a year, and the Focus is never far behind in the top five.
In this Focus, the 48-volt mild hybrid technology officially enables the new Focus to deliver 155 PS of power alongside a 17 per cent fuel efficiency improvement compared with the equivalent outgoing powertrain.
In truth, the hybrid unit has replaced the old-fashioned alternator and takes energy from the petrol engine (and from the brakes too) which does help the environment, but its main purpose – rather like the aforementioned Porsche 918 – seems to be to add torque to the drive-train of this handsome looking Focus model.
Returning official speeds of 0 to 60mph in 9.2 seconds and a top limit of 131 mph, this is a family car that gets you where you need to be in no time at all.
Plus, it's incredibly good fun to drive. The torque under foot is evident in this 155PS model and it corners so well it leaves a smile on your face.
The official combined mpg is 53.3mpg but in reality I've been returning nearer to 40mpg so far.
The ride is firm and sporty but not bumpy. The part-leather seats cushion the occupants well for a comfortable ride.
Design and technology
The X-Edition comes with 18" alloys complete with the red brake calipers straight off the ST version which augment the Focus ST-Lines' sleek angles and racing spoiler.
Dressed in Agate Black paint, my test drive model is subtly seductive – a real head-turner.
My car came with the comfort back so a reversing camera (how did people cope before these?), pop-out door protectors that are a simple but long-needed extra, heated front seats and privacy glass at the rear, making the children feel like VIPs, that all really added to the sense of affordable luxury here.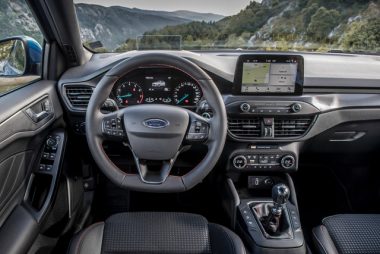 Carbon fibre-esque panel inserts, a quick cool air con blast button for hot days and a quick warm-up heat blast button for cold days are equally as helpful as is Ford's long-admired quick clear windscreen technology.
The tablet-style pop-up infotainment screen may distract some – and comes with many warnings – but the DAB stereo, sat nav and option to stream from your smartphone are the standard these days so we need to adjust to them.
Linking your phone to the Ford Pass app means you can lock or unlock your Focus from anywhere in the world with 4G or Wifi, as well as keep tabs on your fuel levels and tyre pressures.
The three-driving modes of Normal, Eco and Sport, offer three different displays on the smart digital dashboard (new for 2021). The latter takes on the appearance of the Ford Mustang's dash, for added fun!
To sum up: Ford's latest Focus adds enough extra 'bells and whistles' to maintain interest with the car buyer in a competitive marketplace.
It may not command the luxury interior of a VW Golf but it is still comfy and stylish, with even carpeted door pockets this time.
The beauty of this ST-Line X Edition model though is in the driving and that's ultimately what you will be doing in this fast family car that has sporty good looks to boot.
With many great deals out there to be had, this could be the perfect choice for you and this X-Edition should hold its value well, given all the great extras it boasts.
Price: from £26,000 (before discounts)
James Iles