JETHRO Tull celebrate 50 years since the release of their best-selling 'Aqualung' album with a golden reissue this week.
Shifting more than 7million units worldwide and streamed over 81 million times around the world, the LP peaked at No.4 in the UK album chart in April 1971 and was Tull's fourth studio album.
While 'Aqualung' is widely regarded as a concept album featuring a central theme of "the distinction between religion and God", the band have said there was no intention to make a concept album, and that only a few songs have a unifying theme.
The LP's success signalled a turning point in the career of the band, who went on to become a major radio and touring act, and it features a variety of genres with elements of folk, blues, psychedelia and hard rock.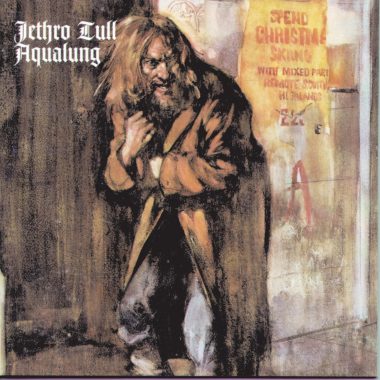 Recorded at Island Records' studio in London, it was their first album with keyboardist John Evan as a full-time member, their first with new bassist Jeffrey Hammond, and last album featuring Clive Bunker on drums, who quit the band shortly after the release of the album.
Something of a departure from the band's previous work, the album features more acoustic material than previous releases; and inspired by photographs of homeless people on the Thames Embankment taken by singer Ian Anderson's wife Jennie contains a number of recurring themes, addressing religion along with Anderson's own personal experiences.
The album spawned two singles, "Hymn 43" and "Locomotive Breath" and was well received with Sounds saying that its "taste and variety" made it the band's "finest" work.
The Village Voice's annual Pap and Jop critics' poll voted it the 22nd best album of 1971
Retrospective reviews generally regard it as a classic and AllMusic's Bruce Eder referred to the album as a "bold statement" and "extremely profound."
Indeed, Steve Harris from Iron Maiden describes it as "a classic album" that features "fantastic playing, fantastic songs, attitude [and] vibe."
* Aqualung is officially re-issued today (March 26th).
'Selected Works' showcases Boo Hewerdine's songwriting talent
A NEW 20-song compilation album sequenced by Tom Rose from English songwriter Boo Hewerdine's extraordinary catalogue released (in his what is his 60th year) on March 26th.
Featuring many of Boo's deepest cuts, this gorgeous collection of beautiful songs includes a new recording of 'The Village Bell' with label mate Kris Drever and the fantastic 2021 single 'The Language of Love' alongside previously digital only single tracks that appear for the first time on CD and streaming formats.
James Iles