The Royal Air Force Typhoon Display team have retraced the footsteps of the heroic Battle of Britain pilots, known as the "The Few", by flying over the white cliffs of the southern British coastline on the anniversary of the Battle of Britain.
The Typhoon, callsign Blackjack, which is based at RAF Coningsby made several passes along the landmark as part of their return flight from the south coast after a successful four days of displays at the Bournemouth Air Festival.
The sortie provided essential training for Quick Reaction Alert, which is the pilots primary role based at RAF Coningsby. The aircraft was conducting a training exercise to intercept a low slow target in unfamiliar airspace.
Speaking of the sortie, Flight Lieutenant James Sainty the Typhoon display pilot said:
"It was an honour to fly the Union Flag over the white cliffs to commemorate the anniversary of the Battle of Britain. Looking down to see the stunning coastline and the pure whiteness of the cliffs, as the fighter pilots who fought in the Battle of Britain would have done many years ago, was an incredible experience."
The cliffs saw plenty of action in the summer of 1940 and has a long history as a location for observation and warning. The location hosted a Chain Home Radar Station, which helped provide an early warning system along the east and south coasts of Britain. By 1940 the chain was completed and could detect low-flying aircraft which proved invaluable in getting RAF fighters airborne.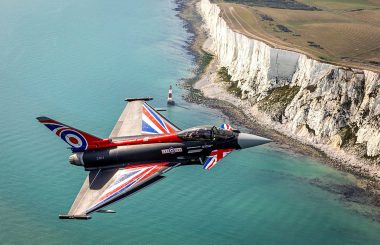 Charged with capturing the imagery from the air SAC Lewis from RAF Coningsby joined aviation photography specialists COAP Media for the sortie and said:
"Having the opportunity to photograph the Typhoon display team aircraft over the cliffs was a real privilege and something I won't ever forget. Having such a unique vantage point looking down as the Typhon flew the Union Flag colours over one of the country's most iconic locations was a photographer's dream."
Reflecting on the opportunity during the flight back to his home base in Lincolnshire, Flt Lt Sainty said:
"After shutting down the engines, I sat in the cockpit as the stillness of the air that day enveloped me and I reflected on how they must have felt in the summer of 1940, returning to base after fighting in the skies of the UK. This was a sortie that I will remember for the rest of my life."
Although fighting continued for another few weeks, the action on 15th September was seen as an overwhelming and decisive defeat for the Luftwaffe. For this reason, this date is celebrated in the United Kingdom as Battle of Britain Day.
The RAF will commemorate the Battle of Britain at the traditional service this Sunday (19th September) at Westminster Abbey attended by the Chief of the Air Staff, Air Chief Marshall Sir Mike Wigston. Services will also commemorate the Battle of Britain this weekend across Worcestershire, Warwickshire and the West Midlands.
Photo credits: SAC Iwan Lewis RAF
UK MOD © Crown copyright 2021