National Fitness Day 2021 will take place tomorrow (Wednesday 22nd September) and in celebration Trainify are running a series of FREE Wakeup Workouts.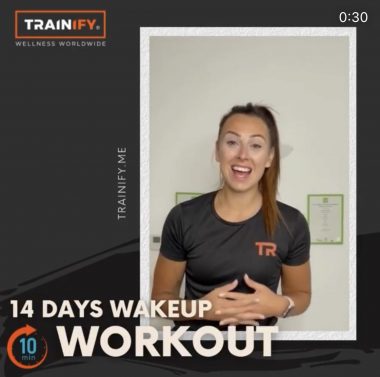 Trainify will be live on Zoom every morning at 7:30 am.
These workouts will be just 10 minutes a day. No equipment is needed.
Trainify's free online workouts are accessible and can be enjoyed by all ages and athletic abilities. The workouts will be led by experienced instructors that will help you get active in an interesting and fun way. All you need to do it get up and log in.
Research shows that after just a week of activity there can be a behaviour change that lasts much longer. So this free offer could be the catalyst you need to become a fitter, healthier you.
Even short amounts of exercise can have tremendous health benefits including weight loss, more energy, mood change and increased strength. So why no give it a go? We hope to see you logged in at 7.30am!
Let's make National Fitness Day a National Fitness Week!
Trainify is a fitness platform using the best hand-selected local trainers for clients seeking high-end, reliable, and flexible workouts, without it costing the earth.  There are no joining fees, no memberships, and no long contracts.
In order to join the FREE workouts register by clicking here.
This offer is supplied by Trainify.me. Bullivant Media will not be held liable for any loss or injury during any reader offer workout. For reader offer's full terms and details please refer to Trainify.me website. Terms and conditions apply.
Support community journalism by making a contribution
The Coventry Observer's team of journalists provide a trusted source of news, sport, entertainment and events going on in your area and issues which matter to you - both via our free weekly print edition and daily updates on our website.
Every contribution, however big or small, you can make will help us continue to do that now and in the future.
Thanks for reading this and the Coventry Observer.
Support Us