The penny-pinching pros from NetVoucherCodes.co.uk are encouraging families to cut down on the Christmas waste and save money this noel.
Tricks include picking environmentally friendly presents, making advent calendars at home and shopping locally for dinner.
A spokesperson from NetVoucherCodes.co.uk said:
"Christmas is such a special time of the year, so it is no surprise some people want to go big for this holiday.

"Surplus presents, food and booze are a reality most years, costing us the environment and lots of money. However, some smart swaps and planning can reduce your carbon footprint by a significant amount.

"Trying to be green doesn't mean that you have to be a Scrooge though – it is much easier than you think to make environmentally conscious choices this Christmas."
Their twelve swaps for sustainability are as follows:
Tree picking
Putting the Christmas tree up is one of the most-loved festive traditions in households across the country. Reusable trees are usually thought to be the more environmentally friendly option, but they would need to be put up every year for a quarter of a century to really pay off.
Anyone on the hunt for a new tree should look for a real fir one. To make it even more environmentally friendly, visit a local farm or rent a tree for the season. Once January comes, they can be enjoyed in the garden instead.
Lights
When it comes to picking lights, going for an LED option will help reduce energy usage by up to 80%. They are usually more expensive than alternatives, but they won't use excessive electricity, paying themselves off.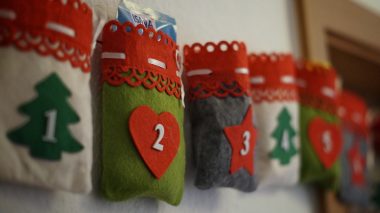 Advent calendars
Advent calendars from the shops are usually thrown away every Christmas day and usually always include non-recyclable plastics. Instead, buy or craft a reusable one that your kids will grow fonder of year on year. Beautiful wooden ones can be crafted and filled with edible trinkets. Felt or material calendars can hold pretty much anything, depending on the size of the pockets.
Christmas cards
Around 1.5 billion Christmas cards are thrown away each year in the UK and whilst they are a lovely way to let people know you're thinking of them, they are bad for the environment.
Alternatives to cards coated in plastic could include a Christmas letter to relatives and loved ones that appreciate receiving post, an e-card to friends you connect with online and cards with seeds in them, giving the card a second use and life.
If this isn't up your street, opt for cards made from recycled paper and make sure they are free from any plastics, so they can be recycled again.
Wrapping
Before thinking about buying new paper, make sure that all last year's leftovers and gift bags are being reused. It is estimated that UK residents throw away 227,000 miles of wrapping paper each Christmas.
This paper is often coated in sticky tape, a plastic coating or glitter, making it non-recyclable. To combat this, paper tape or twine instead. Newspaper and brown paper are easy to recycle, so use these instead.
Chocolate treats
The packaging from sweet treats is often non-recyclable, putting massive pressure on landfills. Instead of buying individually wrapped chocs, opt for a bar. The packaging from chocolates and sweets wrapped in foil is easier to repurpose and recycle.
Gifting
Instead of buying comedic or throw-away novelty gifts, which end up in the bin after festivities, buy reusable gifts that the receiver can use all year. Water bottles, coffee cups and tote bags are a good idea.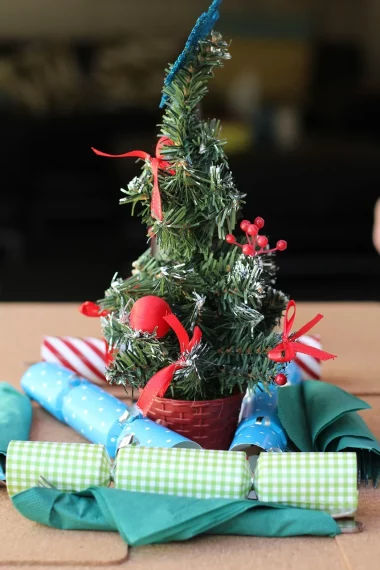 Go crackers
Crackers often are covered in glitter or plastic film, meaning they can't be recycled. Plus, the toys inside of them are usually used a few times before getting thrown away. Instead of keeping up such a disposable tradition, find yourself some reusable Christmas crackers.
Families can fill their crackers with their own handwritten jokes and personalised treats to save on plastic waste and create a new environmentally friendly tradition.
Dinner on the day
Getting everything prepped for dinner on Christmas can be super stressful, no matter where you get your food from.
To be super eco-friendly, pick up produce from your local farm or buy vegetables lose instead of packaged in plastic. Get meat from the local butchers, and shop for other bits at independent businesses or markets.
Setting up seats
The house is the fullest over Christmas and there is often a need for additional chairs, plates, cutlery, and wine glasses. Instead of forking out for a new set of everything, consider asking guests to bring their own. Lots of supermarkets with large alcohol sections will have the option to hire glassware from them at a small cost if the booze is bought from them.
Another tip is to buy the items you need second-hand and then give them back to charity. This is useful if you don't have space to store them throughout the year and shouldn't cost too much. Plus, you will be helping a charity!
Storing leftovers
It is estimated that each Christmas we waste around 250,000 tonnes of food.  How terrible for the environment, and our bank accounts? Simple steps like planning meals you can make in the run-up to New Year, freezing the food before it goes off, and donating a bulk of leftovers to a shelter.
Thinking ahead
Thinking ahead can save lots of cash and stop loads of items from ending up in the landfill.
Lots of festive-themed things cannot be recycled, so it's a good idea to start looking at the things you can reuse. Save glitter-covered bows, gift boxes and bags. Turn used sheets of wrapping paper into bunting and paper chains to make the most of things that will otherwise go in the bin.