Here are some of the supermarkets where you can pick up your copy of this week's Coventry Observer for FREE: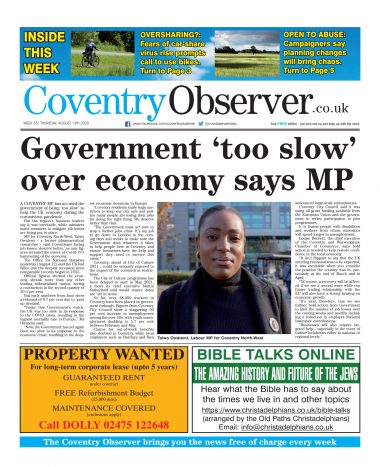 Sainsburys Store 24-26 Trinity Street City Centre #Coventry West Midlands CV1 1FL
CWS Convenience Woodway Lane Coventry #West #Midlands CV2 2HX
Asda Superstore Brade Drive Coventry West Midlands CV2 2PN
Tesco Extra Olivier Way,Cross Point Business #Walsgrove on Sowe Coventry Warwickshire CV2 2SH
Tesco Superstore Clifford Bridge Road Walsgrave on Sowe Coventry West Midlands CV2 2TS
Co-Op Convenience 184 Ansty Rd #Wykin Coventry West Midlands CV2 3EX
WM Morrisons Skipworth Road #Binley West Midlands CV3 2XA
Asda Superstore London Road Abbey Park Coventry West Midlands CV3 4AR
Tesco Superstore 22 Cannon Park Centre Lynchgate Road Coventry West Midlands CV4 7EH
Sainsburys Store 330 Fletchampstead Highway Canley Coventry West Midlands CV4 9BJ
Co-Op Convenience 329/332 Tile Hill Lane Coventry West Midlands CV4 9DU
Co-Op Convenience 8 Earlsdon Street Coventry West Midlands CV5 6EG
CWS Convenience 132-136 Sutherland Avenue Eastern Green Coventry Warwickshire CV5 7NJ
WM Morrisons Alvis Works Holyhead Rd Coventry West Midlands CV5 8BX
Co-Op Convenience 381 Allesley Old Rd Coventry West Midlands CV5 8GG
Co-Op Convenience 52 Norman Place Road #Coundon Coventry West Midlands CV6 2BQ
Asda Supermarket Jubilee Crescent #Radford Coventry West Midlands CV6 3EX
WM Morrisons Holbrooks Parkgate Rd Coventry West Midlands CV6 4GB
Sainsburys Store Austin Drive Coventry West Midlands CV6 7NS
Co-Op Convenience 345 Kenilworth Road #BalsallCommon Coventry West Midlands CV7 7DL
Co-op Store Gun Hill, New Arley, #Fillongley Coventry West Midlands CV7 8HB
Asda Superstore Newtown Rd #Nuneaton Warwickshire CV11 4FL
Sainsburys Store Vicarage Street Nuneaton Warwickshire CV11 4XS
Sainsburys Store 20 Rugby Road #Hinckley Leicestershire LE10 0QG
Co-Op Convenience 436-438 Cedar Road Camp Hill #Nuneaton Warwickshire CV10 9DN
Co-Op Convenience Kem Street Attleborough Nuneaton Warwickshire CV11 4LH
Co-Op Convenience School Road Bulkington Nuneaton #Warwickshire CV12 9JB
Co-op Store Boyslade Road #Burbage #Leicestershire LE10 2RF
CWS Convenience 47-49 Trent Road, Hinckley Leicestershire LE10 0YA
Or if you prefer you can read the paper cover to cover online at: www.CoventryObserver.co.uk/editions
Hope you enjoy this week's edition and remember if you have a story for us, please email our editor on: editor@CoventryObserver.co.uk
For advertising enquiries please call our friendly sales team on 02476 011 777
Hope everyone has a great weekend!
#CoventryObserver #BullivantMedia #CoventryNews #CoventrySport #CoventryWhatsOn #CoventryEvents #CoventryUpdates #CoventryWebsite
Support community journalism by making a contribution
The Coventry Observer's team of journalists provide a trusted source of news, sport, entertainment and events going on in your area and issues which matter to you - both via our free weekly print edition and daily updates on our website.
Every contribution, however big or small, you can make will help us continue to do that now and in the future.
Thanks for reading this and the Coventry Observer.
Support Us