HOUSEHOLDS in Solihull will stay under coronavirus restrictions for a second week, despite a slight reduction the borough's Covid-19 cases.
The rules banning people mixing on household premises are being kept whilst Solihull remains an area of 'national intervention.'
Rates of coronavirus infections fell from 69.8 to 67.9 per 100,000 people in the week commencing September 25.
But public health chiefs have confirmed there will be no change in rules given the concern about accelerating infection rates.
Clive Wright, regional convenor for the Department of Health, said: "We are at a pivotal point in what is a rapid increase in the spread of coronavirus.
"As we know, the government has announced new measures in response to increased levels of transmission this week.
"The area in the West Midlands with the highest infection rate is Birmingham which has reached over 100 per 100,000.
"Solihull remains in intervention within the framework.
"All councils are working tirelessly to deal with the virus, and there are great examples of advice and support offered to businesses and communities in Solihull.
"This week's rates across the West Midlands per 100,000 stands at 47.2 in Coventry, up from 34.6.
"Solihull's rate has gone down slightly from 69.8 to 67.9, and in Warwickshire the rate of infection has risen 21 to 24.
"Some of this can be explained by increased testing, but it is clear the disease is spreading more rapidly.
"Although our testing is around twice as many as in august, demand is outstripping supply.
"Please only book a test if you have symptoms, as this will help make the best use of laboratory capacity."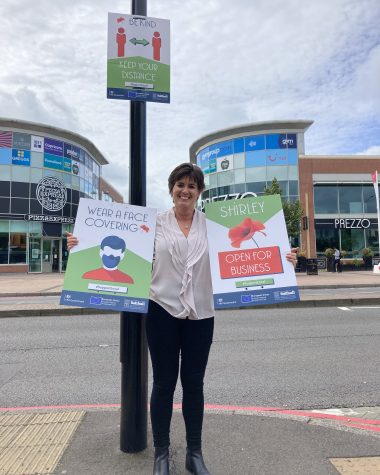 Karen Grinsell, Solihull's cabinet member for health, said: "Solihull remains in an area of national intervention – our rate has fallen just slightly but we are not complacent in any way.
"We are currently testing positive at 3.4 per cent of the population.
"Earlier this week we had a situation in on of our schools, the Arden Academy in Knowle, which is certainly a wake up call for us all.
"The school has been very well engaged and put in all the measures it can for pupils and teachers.
"Arden Academy came to a final decision that they would close to get that circuit break on controlling Covid.
"Approximately 1600 pupils will remain at home, we have been quite clear that children should be at home and out and about
"We do hope that all parents will take heed and listen to advice given.
"But as we see from many other regions, transmission is still mostly between family members and friends.
"We welcomed last week the childcare arrangements that were implemented by the government, so grandparents can continue with childcare.
"We have also implemented the community champions and we are up to 100 of those currently.
"This week I also launched the flu campaign with the Birmingham and Solihull CCG. We are pushing for the vaccination programme to be as widespread as possible."
As restrictions stay in place, hospitality businesses across England will also have to now close at 10pm – with the curfew enforced by licensing officers and the police.
In addition to police officers stepping up anti-coronavirus enforcement, the military has been drafted in to boost civilan efforts in encouraged compliance to pandemic rules.
The West Midlands Deputy Police and Crime Commissioner Waheed Saleem said: "It is clear West Midlands Police play a very important role in response to the pandemic.
"Since September 20 we have received over 1000 calls, around 200 average per day about Covid restriction breaches.
"Police will continue to follow the education and encouragement approach but we will move faster to enforcement against those who continuously flout the rules.
"We will be working with councils on licensed premises enforcement, to do high profile patrols and ensuring that licensed premises and hospitality venues are closing at 10pm as required.
"Crime levels are going back to pre-covid levels. Domestic violence and murder rates are unfortunately up and there are cases of gang tensions and violence across the force area.
"We are also seeing a number of reports of weddings with people flouting the rules. We do have the power to fine people who organise large weddings up to £10,000.
"I am sure couples would rather spend that on their honeymoon or their home. My advice is to reduce the guest list to 15, or postpone the wedding.
"We will be targeting banqueting suites and venues which are holding large weddings."
Speaking on reports of military personnel in fatigues supporting anti-pandemic efforts in Northfield, Mr Saleem said: "Military support is very well set out. The armed forces do an excellent job but they are not there to do policing. They are supporting the Test and Trace operations but they are not there in an enforcement role in the streets."