'THERE is a real buzz about the place and people have a spring in their step' – that was the view of Chancellor Nadhim Zahawi as he visited Birmingham and Coventry ahead of tonight's Commonwealth Games opening ceremony.
Speaking to the Observer after the Commonwealth Business Forum which Mr Zahawi described as 'a major gathering of companies from across the world' and the Prime Minister also attended, he said as well as the the sporting prowess on display, the games also brought with them amazing economic opportunity.
"Some of those businesses are already investing in the West Midlands and some are considering it – many can see the potential of our region.
"The Commonwealth Games has already brought £800million worth of investment and it has unlocked billions more.
"There have also been 40,000 jobs as a result of Birmingham being the host city."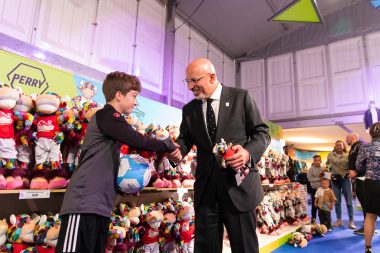 Mr Zahawi, who is also the MP for Stratford-upon-Avon, praised West Midlands Mayor Andy Street and a strong economy and said, although there would be challenges – 'caused mainly by rising gas prices because of Putin's illegal war in Ukraine' – there were bright times ahead for the West Midlands.
In Coventry the Chancellor visited Aurrigo which specialises in autonomous, aviation and automotive technology and has recently been trialing autonomous 'driverless' buses and 'Auto-Shuttle' services.
"Long-term for Birmingham and the region, there has been investment in technology and infrastructure.
"This is levelling-up in action."
We asked him about the atmosphere he had encountered.
"There's a real buzz about the place – people and businesses have a spring in their step.
"I met a visitor from Southampton who was really excited and had come up for the games.
"For Birmingham 2022 to be a success, it is important people are going to have a great time and we see sporting prowess but it is equally crucial we demonstrate the power of the Commonwealth and how we can work together to make the world a better place."