A survey of Coventry and Warwickshire firms could give the first signs of how the region will deal with the recession brought on by the Coronavirus pandemic.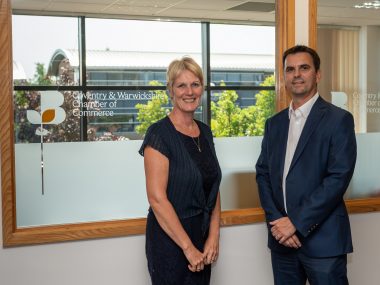 The Coventry and Warwickshire Chamber of Commerce has launched its latest Quarterly Economic Survey (QES) which will be the first opportunity for it to gauge the sentiment of businesses across the patch since figures officially confirmed that the UK had entered recession.
The survey, delivered in partnership with Prime Accountants Group, is a barometer for the regional economy and also feeds into the British Chambers of Commerce's QES which is used to highlight to Government what support firms need to grow.
Louise Bennett, chief executive of the Coventry and Warwickshire Chamber of Commerce, said: "The economic decline in the second quarter of 2020 was hugely due to the Coronavirus crisis and the measures that followed.
"The most recent GDP figures showed that we were officially in recession but that the figures from June had started to see something of a rebound as parts of the economy began to open up.
"Of course, we are still some way off normality and while some sectors are returning to something close to business as usual, many are still quite a distance from that.
"Therefore, the survey we are currently conducting is going to provide a real insight from firms across Coventry and Warwickshire on how they are currently performing and what their expectations are for the coming weeks and months.
"That, in turn, will give us a strong idea of what type of recovery we might see in our regional economy and how quickly we return to the economic output we were seeing before the pandemic struck."
Steve Harcourt, of Prime Accountants Group, added: "These are difficult times, as the impact of the Coronavirus pandemic takes its toll on many individuals and businesses in the region.
"While output is slowly picking up, as the lockdown eases, there is still significant uncertainty about the medium-term outlook, as well as how the pandemic will change the world we once knew more permanently.
"Getting businesses to report in to central government through the QES is crucial so that we can translate how businesses are trading and what they have in the pipeline into the outlook for the local and UK economy.
"Timing of a vaccine, or effective treatments for COVID-19, could see an improving economic outlook for 2021, however with the end of Government support for business in the coming months, the economic recovery could be slower than anticipated. With certain sectors still struggling to open or get anywhere near pre lockdown capacity, unemployment is predicted to continue to rise through 2021 and the Coventry and Warwickshire region will not be immune to this."
To take part in the QES, businesses should go to https://www.surveymonkey.co.uk/r/CWChamber
Pictured: Louise Bennett and Steve Harcourt